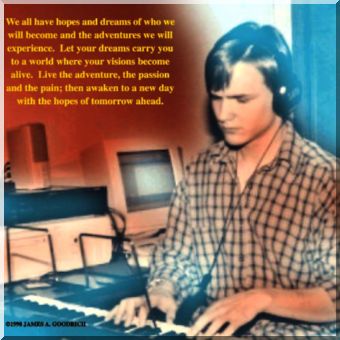 I first started playing piano at a really young age. Although my teachings were primarily classical, I remember spending hours just hitting notes in different orders to see how they sounded. Of course, at the time I had no idea what I was doing; but I thought it was the coolest thing that I could make relaxing sounds with no sheet music. I wrote my first song in junior high school called Stacey's Song for a girl that I was interested in. This was a complete hacker's mix involving only a couple chords, but at the time it was enough. I had no idea where this would lead.
I spent most of my high school years focusing on percussion. I played drum set in a couple high school-age rock bands as well as becoming the drum section leader at Bellingham High School (Massachusetts) for two years. Although I loved music, at the time I didn't know whether or not I would continue with it after high school. I had pretty much abandoned piano, and was losing interest in drumming. However, this inertia came to a sudden reverse when I was sent to pick up a keyboard for a high school show. I met Bellingham's elementary music teacher, Mr. Williams. He quickly gave me a tour of his K-2000. At the time, Mr. Williams was in the process of composing an orchestration for a children's musical which his wife had written. I was amazed. I simply could not believe what one person could do with a synthesizer.
My next project was composing a song for Bellingham Pop's night called Solemates. This was a slow pop song which I wrote to some gorgeous lyrics done by my mother. At the time I couldn't afford any real synth equipment, so I actually did this work on a computer sound card, the Soundblaster AWE-32. I inputted every track from piano to drums with nothing aside from a mouse. After I knew that this was something I was definitely going to pursue I got into some serious sound equipment. In addition to my practice, I sneaked my way into music theory classes at UMASS Lowell. Its my fourth year of serious composing, and the results… check it out for yourself.